Sugar Land Water Heater Repair & Installation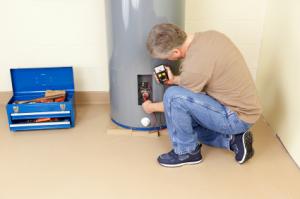 If you've ever had to go for more than a day or two without a working water heater, you know just how important it is to have a capable water heater repair team on your side. That's why our Sugar Land plumbing team has been specializing in fast & effective water heater repairs since day once. Our technicians go to great lengths to keep water heaters running longer than anyone, and we can fix the most common water heater issues using just the parts we keep on our trucks. If you water heater has reached the end of its lifespan, we can also help you re-evaluate your hot water needs and choose the perfect replacement unit for your home, family, and budget. Give us a call today and one of our Sugar Land water heater repair specialists will be there to help in no time at all.

Why Call Our Plumbers For Your Water Heater Repair Needs?

Our plumbers have encountered virtually every make and model of water heater, from the smallest RV units to the largest commercial units
Our plumbers don't waste time with unnecessary diagnostics. We can diagnose most water heater problems in only a couple of minutes, which means less time is wasted.
We travel with all the parts necessary for most water heater repair jobs.
We take our pricing estimates and appointment windows seriously. We change what we say we change, and we'll be there when we say we will.
We value our long term relationships. We won't suggest a water heater replacement unless we believe it will save you money in the long run.

---
Have You Considered a Tankless Water Heater?
A tankless water heater is a luxury that's more affordable than you may think. A tankless water heater can help lower your utility bill, take up less space in your garage or water closet, and provide an unlimited supply of hot water for your needs. Consider a tankless water heater if:
Your house sits vacant for much of the day, or if you vacation frequently
Your showers turn cold too quickly
You can use the extra storage space that would have been taken up by a conventional water heater
You own an oversized bathtub which cannot fill up all the way before running out of hot water
You want to save money each month off your utility bill
you would rather replace your water heater in 20+ years, instead of only 10+.

Tankless water heaters are not right for every home, however. Speak with one of our water heater technicians today to learn if it's right for yours.

Our Service Area
Our team is proud to service not only Sugar Land, but also Richmond, Rosenberg, Greatwood, Cinco Ranch, Missouri City, Bellaire, Kay, Houston, Pearland and Pasadena. If you need a plumber farther north, visit The Woodlands Plumbing. We can also recommend Coppell Plumbing.
---